zeroBS collects informations and status reports on the subject of infrastructure security vs DDoS-Threats. In this article we provide an condensed overview of trends and developments.
additionally we track DDoS-ThreatLevels in different flavors:
---
2022
Summary
general trend: frequency goes down, quality goes up

OSINT is the big newcomer in 2022, giving attackers the ability to find and attack weak spots in targets networks/application (hello kitty KillNet/Noname et al

once-sophisticated Attacks hit the Mainstream (TCP-DirectPath, Carpetbombing, DNS-DDoS): Neustar & Netscout are seeing CarpetBombing arriving in the mainstream, where in Q3/Q4 50% of attacks against networks are leveraging CarpetBombing-Attacks (Neustar, Netscout)

Server-based Botnets are back again and have a stable 5-10k - size

TCP DirectPath has been seen as a dominant and most successful attackvector in more-than-average-attacks

DDoS - Threat actors custom-tailor each attack ("surgical methods", Lumen) to bypass multiple layers of DDoS mitigation and protection, both cloud-based and on premises.

HitAnd Run-Attacks (Short-term, Testing defense only)

DDoS as third ransom-vector by Ransomware-Gangs

strong hacktivism-activities due to geopolitical events (Ukraine-War, Iran uprising etc) fuel the DDoS-Threat-Landscape
References & Reports
TA DDoS
NoName057
XAKNet (HackNet)
Cyber Army of Russia
Deadnet
KillNet
---
2021
TL;DR: attackers get more advanced, but experienced protectors know how to cope with the attacks
current Trends and what we expect in the near future:
The DDoS-Threat-Situation has not really improved in recent years, and DDoS-based extortion still seems lucrative enough. Furthermore, we see a Renaissance of DDoS-Attacks in 2021 for many actors, either extortion, hacktivism or your average "sportsman".
since 2020, a DDoS ransomware gang with changing names has been very active (tracked by us here ), attacking unprotected companies with highly targeted attacks. Trademark of this gang:

customized and targeted attacks after reconnaissance with high penetrating power.
APT-mocking with constantly new names (Fancy Bear, Armada Collective, Lazarus Group, or REvil lately)
attacks on multiple targets of one industry (so far: banks, travel, ISP, telcos, VOIP providers, gaming industry, email providers)
global scale attacks
DDoS campaigns in 2021 have become more targeted, multi-vector and persistent (Neustar, Netscout)

Ransom DDoS (RDDoS) campaigns got a substantial boost (ENISA, Cloudflare, Netscout)

cybercrime-as-a-service (aka: Booter/Stresser-services) works as an amplifier of web-based and volumetric DDoS attacks
technical trends
TCP-based attack vectors are coming into focus due to
new researchpapers (link to paper directly ), which suggest a huge potential in TCP volumetric attacks

TCP-Amplification and Reflection will become a major threat in the coming years, especially with amplification-rates > 1000. we expect advanced adversaries using this vector more and more successfully, and already have seen well done TCP-attacks

DDoS is moving towards mobile networks and IoT (ENISA), supporting localised DDoS where an attacker interferes with the connectivity of a specific area threating services like onlinebanking and any service with a large customerbase using mobile devices/connection

Recon, target-analysis and mitigation-monitoring is quite common with Ransom DDoS and advanced attackers (multiple sources and DFIR)

Botnet-Size of 50.000 Bots and more is the new norm for IoT-Botnets

1TB/s volumetric attacks defines the new upper level and has been seen by many providers (Netscout, Cloudlfare, Google, Neustar)

streetprices for DDoS-Attacks kept stable in the last 2 years

DTLS and GRE are emerging vectors

60% of all DDoS-Attacks are application-based and non-volumetric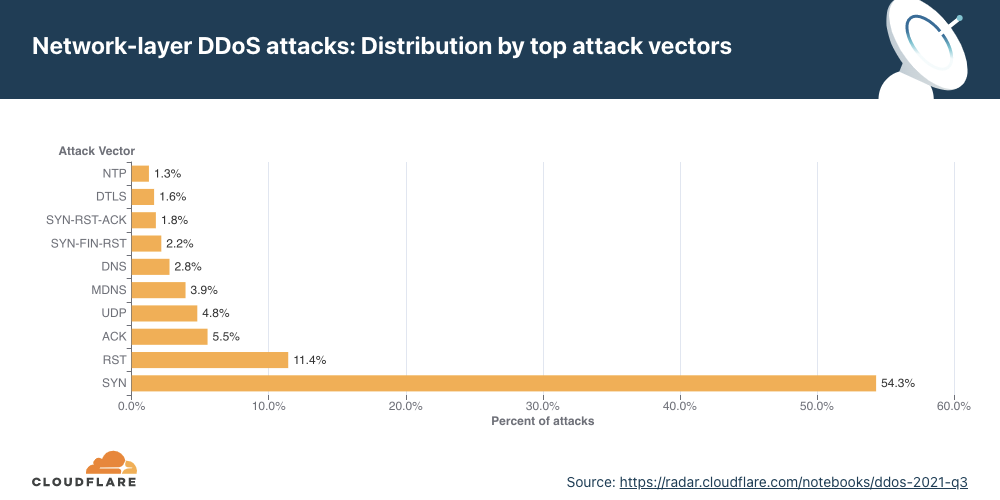 things that wouldnt surprise us in 2022
IPv6 - attacks
new vectors, maybe interesting misusage of QUIC
attacks with unexpected and unpredictable side effects or cascade effects, e.g. a powergrid going down due to attacks, which is kind of overdue
Reports and Analysis
disclaimer: we refer to reports and analysis with benefit for technical personel/blueteams
---
---
2018
Intro
zeroBS sammelt die wichtigsten Informationen und Status-Reports (Akamai, Neustar, Verisign, Qihoo 360) zum Thema Infrastruktursicherheit / Lage auf dem DDoS-Sektor, und gibt in diesem Artikel eine Übersicht über die wichtigsten Aussagen, Trends und Inhalte.
Statistics from Arbor
57% of DDoS-Attacks saturated the internet/network-capacity of attacked victims
---
maximal size of volumetric attack
---
Attack-Visibility:
658

% of attacked companies had visibility on Volumetric Attacks



658

% of attacked companies had visibility on Layer-7-Attacks
---
Statistics from Akamai
TCP vs UDP in volumentric attacks
Volume:
658

GBit

Volumen max Arbor (1)
---
Attack-Visibility:
658

% vs Volumetric Attacks


658

% vs Layer7-Attacks
---
Statistics from Neustar
avg volumetric Attack-Size, by percent
---
maximal size of volumetric attack
---
Attack-Visibility:
658

% of attacked companies had visibility on Volumetric Attacks



658

% of attacked companies had visibility on Layer-7-Attacks
---
Statistics from Verisign
Avg Attack Peak Sizes
0

Gbps Avg Peak-Size


0

% > 1 GBps
Multi-Vectors:
Attack-Types:
Multi-Vectors:
https://ddosmon.net/insight/
https://blogs.akamai.com/2018/06/summer-soti---ddos-by-the-numbers.html
https://securityledger.com/2018/06/akamai-report-finds-ddos-attacks-more-sophisticated-adaptive/
https://www.corero.com/blog/890-the-current-state-of-ddos-attacks-are-they-getting-smarter.html
https://www.verisign.com/en_GB/security-services/ddos-protection/ddos-report/index.xhtml
https://www.security.neustar/blog/Neustar-DDoS-and-Cyber-Security-Report-Wins-InfoSec-Award-for-Research-Report
visibility / tools
https://blog.radware.com/security/2016/03/how-to-prepare-for-a-ddos-attack/
Referenzen
---
Fragen?
Kontakt: info@zero.bs